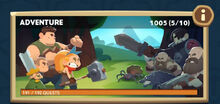 Adventure is the first mode unlocked in Almost A Hero, and the one primarily used throughout the game. It features a large number of quests the player can reach by progressing through the stages. Up to five heroes and one ring can be used in this game mode at the same time.
Prestige
[
]
In Adventure Mode, you will have the ability to prestige once you have reached Stage 80. This means going back to stage 1 and starting a new run.
Each time you Prestige you will be rewarded with an amount of Mythstones based on your current stage. Mythstones are what allows you to purchase/reroll Artifacts and level up Mythical artifacts in order to strengthen yourself to progress further.
When you Prestige you lose:
The levels on your heroes
The gold you've acquired
The stage you're in (you go back to stage 1)
When you prestige you keep:
All your currencies (except Gold)
Your artifacts & other permanent bonuses, like mines or trinkets
The evolutions on your heroes
Plus, it allows you to pick a different team.
There's an Artifact bonus that greatly increases the amount of mythstones you obtain with Prestige.
When using Prestige after stage 200 for the first time, the game will unlock the option to 'Double Prestige': spend 100 gems to duplicate the amount of mythstones obtained during that run.
Compass
[
]
The Compass is unlocked at stage 90. It allows your Almost Heroes to progress through stages while the game is closed.
Adventure Mode Quests
[
]
These can be accessed in the Merchant Tab at any time.
Merchant items
[
]
The following merchant items are exclusive to Adventure Mode.
| Picture | Name | Description | Limit per run | Cost | Unlocked at |
| --- | --- | --- | --- | --- | --- |
| | Gold Bag | Gain Gold based on your current stage*. | 5* | 10 Tokens | Always unlocked |
| | AutoTap | Your mighty ring works automatically for 5 minutes* | 5* | 5 Tokens | Stage 45 |
| | Time Warp | Speed up time by 250% for 2 minutes* | 3* | 20 Tokens | Stage 175 |
| | Hero Relief | Pick a hero from your team to go home for this run, leaving an empty slot for another hero. | 2* | 500 Tokens | Stage 440 |
| | Anti-Death Cream | Quickens revive timing of dead heroes by 1.00K% & gives all heroes immunity for 30 seconds* | 5* | 30 Tokens | Stage 765 |
| | Golden Horseshoe | Increases gold earnings from enemies by 200% for 5 minutes* | 3* | 30 Tokens | Stage 875 |
| | Destruction | Destroys the current wave | 2* | 30 Tokens | Stage 1310 |
| | Berserker Potin | Your Almost Heroes will cast their ultimate skills automatically | 4* | 200 Tokens | Stage 1550 |
*Can be improved with artifacts