Artifacts are used to power-up your stats so it is easier to reach farther stages in Adventure Mode and complete Time Challenges. They won't affect Gates of Gog.
Artifacts
[
]
Normal artifacts can be Common, Uncommon, Rare, Epic or Legendary.
The rarity is determined by the kind of bonuses an artifact has: a Common artifact, for example, can only have non-cappable bonuses in it. Some bonuses will only appear in Epic and Legendary artifacts.
There are a total of 40 (last update) artifact slots in the game. You start with 4 slots unlocked, but you can use Gems to buy additional Artifact slots. Need 7020 gems to open all artifacts.
Artifact Level
[
]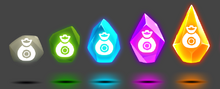 Each artifact is attributed a certain amount of level. The level amount is based off what stats the artifact has rolled: an already existing Artifact can be upgrade to increase its level and the bonuses it gives.
The cost of upgrade an artifact can be decreases by unique bonuses from Artifact.
Players start with a max level of 200 per artifact. This can be increased later with Mythical Artifacts.
Core Bonuses Artifact
[
]
| Name | Description |
| --- | --- |
| Global Gold Bonus | Increases Gold gain from all sources |
| Ring Damage | Increases the damage your Ring deals |
| Hero Damage | Increases the damage your Heroes deal |
| Global Health Bonus | Increases your global Health |
Unique Bonuses Artifact
[
]
These are bonuses that have a max allowed value. Players can't get all quantity of each unique bonuses: once a player has the max available for an artifact bonus, that same bonus won't get in artifacts. There are 7 quantity that players can't get. But, the unique bonuses form artifact can be re-roll with some mythstone, so the unique can be change.
| Qty | Name | Description | Max |
| --- | --- | --- | --- |
| 9 | Hero Upgrade Cost | Decreases the cost of Hero Upgrades. | -96% |
| 3 | Hero Crit Chance | Increases the chance of a critical strike with Heroes. | +30% |
| 5 | Hero Crit Damage | Increases the damage from a critical strike from Heroes. | +150% |
| 5 | Hero Ability Damage | Increases the damage of Ultimates/Abilities | +150% |
| 5 | Non-skill Hero Damage | Increases the damage of Heroes' basic attacks | +150% |
| 2 | Skills Level Req. | Decreases the required level to get a Hero's skills. | -6 |
| 2 | Hero Revive Time | Reduces the time that dead heroes take to re-join the fight | -36% |
| 2 | Hero Ultimate Cooldown | Reduces the cooldown of hero ultimates. | -36% |
| 9 | Ring Upgrade Cost | Decreases the cost of Ring upgrades. | -96% |
| 3 | Ring Crit Chance | Increases the chance of a critical strike with the Ring. | +30% |
| 6 | Ring Crit Damage | Increases the damage from a critical strike from the Ring. Default Criticals are +100% damage. | +300% |
| 3 | Boss Duration | Increases the amount of time you have to defeat bosses. Default is 30 sec. | +60s |
| 3 | Boss Health | Decreases the amount of health bosses have. | -75% |
| 3 | Boss Damage | Decreases the amount of damage dealt by bosses. | -75% |
| 3 | Boss Gold Reward | Increases the amount of gold you get from bosses. | +150% |
| 3 | Non-Boss Enemy Health | Decreases the amount of health of regular enemies. | -75% |
| 3 | Non-Boss Enemy Damage | Decreases the amount of damage dealt by regular enemies. | -75% |
| 3 | Non-Boss Gold Reward | Increases the amount of gold you get from regular enemies. | +150% |
| 2 | Dragon Spawn Rate | Increases the frequency of dragon spawns (currency dragon). | +60% |
| 9 | Mythstones From Epic Bosses | Increases the amount of Mythstones you receive from Epic Bosses while the game is active | +1200% |
| 1 | Free Chest Cooldown | Decreases the amount of time you have to wait in til you can get a free chest from the shop. Default is 4 hours, -25% gives hourly packs. | -25% |
| 2 | Free Chest Item Count | Increases the amount of item you get from free chest. | +2 |
| 3 | Free Chest Currency Reward | Increases the amount of currency you get from free chest. | +150% |
| 3 | Treasure Goblin Gold | Increases the amount of Gold you get from Treasure Goblins Chest Waves. | +90% |
| 2 | Treasure Goblin Chance | Increases the chance to have a Treasure Goblins Chest Wave instead of a normal enemy wave (higher gold gain). | +100% |
| 5 | Offline Gold Earnings | Increases the amount of gold you get when you are not in the game. | +100% |
| 3 | Skip Wave Chance | Gives a chance to skip a non-boss enemy wave. | +90% |
| 9 | Prestige Reward | Increases the amount of mythstones you get from Prestige. | +1200% |
| 2 | Gold Horseshoe Item Limit | Increases the amount of Golden Horseshoe Items you can buy per run before going out of stock. | +4 |
| 2 | Gold Horseshoe Duration | Increases the length of Golden Horseshoe. | +400s |
| 2 | Gold Horseshoe Value | Increases the amount of Gold you receive from Golden Horseshoe. | +200% |
| 2 | Destruction Item Limit | Increases the amount of Destruction Items you can buy per run before going out of stock. | +4 |
| 3 | Time Warp Item Limit | Increases the amount of Time Warps you can buy per run before going out of stock. | +6 |
| 4 | Time Warp Speed | Increases Time Warp Speed. | +200% |
| 2 | Time Warp Duration | Increases the length of Time Warp. | +300s |
| 2 | Auto Tap Item Limit | Increases the amount of Auto Taps you can buy per run before going out of stock. | +6 |
| 2 | Auto Tap Duration | Increases the amount of time Auto Tap lasts. | +600s |
| 2 | Gold Bag Item Limit | Increases the amount of Gold Bags you can buy per run before going out of stock. | +6 |
| 4 | Gold Bag Value | Increases the amount of gold you receive from a Gold Bag. | +300% |
| 2 | Anti-Death Cream Item Limit | Increases the amount of Ante-Death Cream Items you can buy per run before going out of stock. | +6 |
| 3 | Anti-Death Cream Item Duration | Accelerates revive time of dead heroes. | +180s |
| 8 | Reg. Artifact Upgrade Cost | Decreases the cost of Regular Artifact Upgrades. | -90% |
| 5 | Milestone Bonus | Increases the bonus from Milestone. | +25% |
| 9 | Milestone Cost Reduction | Decreases the cost of Milestone Upgrades. | -96% |
| 2 | Trinkets from side quest | Increases the amount of Trinkets from side quest. | +2 |
| 3 | Berserker Potion Item Limit | Increases the amount of Berserker Potion you can buy per run before going out of stock. | +4 |
| 2 | Berserker Potion Duration | Increases the length of Berserker Potion. | +300s |
| 3 | Hero Relief Item Limit | Increases the amount of Hero Relief you can buy per run before going out of stock. | +9 |