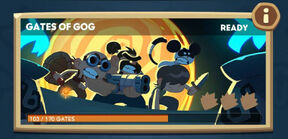 Gates of Gog is a game mode that is unlocked by using prestige in Adventure mode after stage 700. It is composed of Gates, and each Gate has a number of waves, unique effects and must be completed within a particular timeframe. Artifacts don't work in this game mode, nor do Mythical artifacts.
Lore
[
]
Gates of Gog takes place in Gog City. Gog City is a terrible underground fortress controlled by the Green Man's nemesis, Gogolah. The heroes have gained access to the city, and one of Gogolah's lieutenants, Dark Prince Wise Snake, will try to stop the heroes before they can go further.
Charms are powerups unique to Gates of Gog. They're useless outside Gog City. All players start with the same 9 charms, and there are 36 in total.
Collecting Dust & Rest Bonus
[
]

All gates offer a reward for clearing them for the first time, but can also be completed more times after.
The amount of Aeon collected is fixed and depends on the highest gate discovered. While the bar is not being filled, there's a Rest bonus that slowly increases (even if the player is playing on other game modes, or playing in Gates of Gog, as long as the aeon dust bar isn't filled). It takes 24h to produce 10x the normal aeon output, that is added the next time that the bar is filled.
Gates
[
]
List of all available gates in the game
Cursed Gates
[
]
Cursed Gates unlock after clearing Gate 20. They are harder versions of normal Gates that present negative effects (called Curses) and reward scrap instead of aeon dust. A Cursed Gate will appear every 4h if there's a slot available. A player can have up to 10 Cursed gate slots available.
| Slot | Unlock |
| --- | --- |
| 1 to 4 | Clear Gate 20 |
| 5 | Clear Gate 30 |
| 6 | Clear Gate 45 |
| 7 | Clear Gate 60 |
| 8 | Clear Gate 75 |
| 9 | Clear Gate 95 |
| 10 | Clear Gate 110 |
Discovering Gates
[
]
There are 120 Gates available in this mode, but at the beginning only 5 Gates are open. The game offers the option to discover 5 more. Discovering new gates has the following effects:
The Alchemist produces more aeon per batch
The rest bonus is bigger
The flash offers in the shop give more duplicates
The alchemist requires more Dust to create aeon
Cursed Gates give more scraps
Side Quests reward more aeon
| Highest gate discovered | Dust required to collect aeon | Aeon produced | Max Rest Bonus | Duplicates in each flash offer | Scraps from Cursed Gates |
| --- | --- | --- | --- | --- | --- |
| 5 | 100 | 100 | 1000 | 10 | |
| 10 | 140 | 115 | 1150 | 12 | |
| 15 | 200 | 132 | 1320 | 14 | |
| 20 | 270 | 152 | 1520 | 16 | 40 |
| 25 | 380 | 175 | 1750 | 18 | 44 |
| 30 | 540 | 201 | 2010 | 20 | 48 |
| 35 | 750 | 231 | 2310 | 22 | 53 |
| 40 | 1100 | 266 | 2660 | 24 | 58 |
| 45 | 1500 | 306 | 3060 | 26 | 63 |
| 50 | 2100 | 352 | 3520 | 28 | 69 |
| 55 | 2900 | 405 | 4050 | 30 | 76 |
| 60 | 4000 | 465 | 4650 | 32 | 83 |
| 65 | 5700 | 535 | 5350 | 34 | 91 |
| 70 | 7900 | 615 | 6150 | 36 | 99 |
| 75 | 11000 | 708 | 7080 | 38 | 110 |
| 80 | 16000 | 814 | 8140 | 40 | 120 |
| 85 | 22000 | 936 | 9360 | 42 | 130 |
| 90 | 30000 | 1080 | 10800 | 44 | 140 |
| 95 | 43000 | 1240 | 12400 | 46 | 160 |
| 100 | 60000 | 1420 | 14020 | 48 | 170 |
| 105 | 84000 | 1640 | 16400 | 50 | 190 |
| 110 | 120000 | 1880 | 18800 | 52 | 200 |
| 115 | 160000 | 2160 | 21600 | 54 | 220 |
| 120 | 230000 | 2490 | 24900 | 56 | 250 |
Merchant items
[
]
Gates of Gog have their own special Merchant items